QAES study published in the Heritage Journal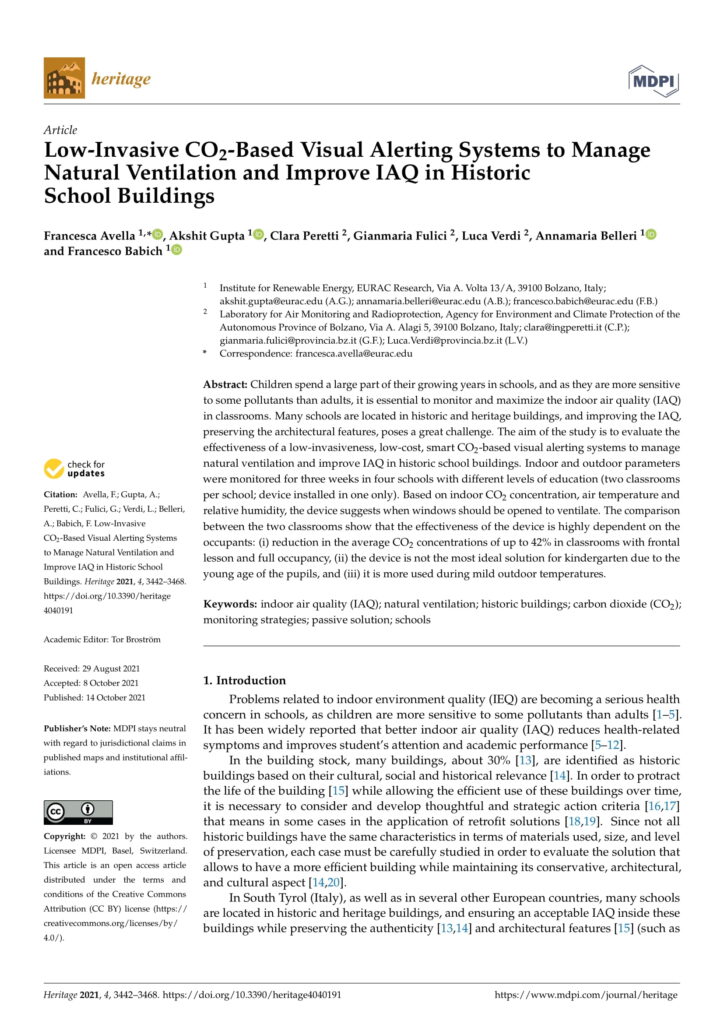 Children spend a large part of their childhoods in school and, as they are more sensitive to certain pollutants than adults, it is essential to monitor and maximise indoor air quality. Many studies have shown that good indoor air quality contributes to greater student alertness and therefore to better performance of daily school activities.
Preliminary research – guided by practical considerations, dynamic thermal simulations and theoretical studies based upon international standards – has led to the identification of natural ventilation as a valuable tool for improving indoor air quality in a number of sample schools.
As part of the QAES project, researchers from the Institute for Renewable Energies at Eurac Research, working with the Air Analysis and Radiation Protection Laboratory of the Province of Bolzano, conducted a study on the effectiveness of a low-cost system using a visual alert signal based upon the CO2 level to prompt when to open the windows for ventilation.
This study was described in an article entitled "Low-Invasive CO2-Based Visual Alerting Systems to Manage Natural Ventilation and Improve IAQ in Historic School Buildings", published in the Heritage Journal, Special Issue "Energy Efficiency in Historic Buildings" (October 2021): the initial results were previously presented during the conference SBE21 Sustainable Built Heritage (14-16 April 2021).
The research was carried out on four schools with different teaching levels, selecting two classes for each case study (one with the device installed and one without), with the air quality parameters for each class monitored over a period of three weeks.
The main result of the research was that the actual effectiveness of this system depends upon several factors related to the occupants, such as the actual numbers in the classroom, their differing ages, and habits, as well as their ability to interact with the system according to its position in the classroom. It should also be noted that the COVID-19 pandemic affected the expected results owing to decreased occupancy rates and changes in user habits.
For more information on the research results, the Heritage Journal article is available at Open Access via this link.
The conference article on the first preliminary studies can be viewed here.